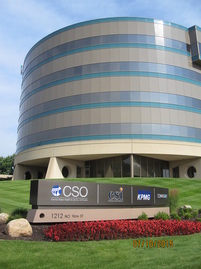 CommScope new Customer Service Group location

located at the intersection of 96th & Western...
(two blocks north of Dodge Street at 96th in Omaha, NE.)

There is no one left at the old plant at 120th & I St. facility.
All CommScope employees are at this new location.
---
---
I've found a few names AND Companies (not all of them) that former employees have chosen as new careers. Outstanding companies in their own... and they got Omaha Works "BEST" managers, staff and engineers.

These are: former engineers/staff/support people who have sometimes left Omaha and relocated to new jobs, or stayed in the local area.

They all worked at the Omaha Works first...under the names of: Avaya, Commscope (CSMI), Lucent and AT&T or Western Electric at the Omaha Manufacturing Facility Works, in Omaha, NE.
This list may contain those still working for the new company - CommScope.

* * *
A partial list of names I have found via my
"personal" LEVEL 1 "LinkedIn.com" account.
Which might indicate they are still working - somewhere ?

Aaron Rasmussen,Craig Rouse, Andre Gilmore,
Cheryl Cincetti Micklavzina, Tom Hamilton, Kurt Vandergreind,
Debra Danielson, Mark Covery, Shannon Bomer,
Mark Curtis, Pat Reding, Gary Irwin,
Chris Masek, Julie Nielson*, Wes Christensen,
Joe Jirka, Shawn Fiala, Randy Duell,
Jahan Zeb, Chuck Meyers, Joseph Zaborowski, Jerry Wicks*,
Michael Curley, Larry Bailey, Richard Runnels,
Troy Perchal, Gus Checketts, John Heindel,
Lyndon Ensz, Charles (Chuck) Coufal, Ken Leach,
Shervin Shamloo, Camille Metoyer-Moten, Gary Roger,
Gary Mortensen*, Jim Jarzynka, Bryan Rademacher,
David Slaughter, Jeff Hunt, Helen Ott-Brasch,
Phil Nguyen, Steve Beran, Tim Miller,
Merle Seamen, Gary Epp, Marge Garrean,
Lisa Grabenbauer, Jim Grabenbauer*, Karen Schliefert,
Rhonda Gibbons, Kelly Nolan, Terry Kamino,
Arnel Citrus, Gary Irwin, Dennis Curtis,
Teresa Kottwitz, Karen Dappen, Greg Jenkins,
Julie Templien, John Valdez, Karolyn Allen,
Krystal Sautter, David Hitchcock, Shannon Hitchcock,
John Hazuka, Joe Jirka, William Spivey,
Ray Schwartz, Mike Parizek, Cyndie Glismann,
Richie Munoz, Helen Munoz, Niki (Welch) Griffith,
Steve Petersen, Andy Gordon, Clint Crawford,
Linda Dembowski, Rick Walowiak, Joe DeFranco
Susan Wertherington, Spencer Anderson, Richard Case,
Jeff Gamble, Bill Schmidt, Geoff McKenzie,
Bart Pettit, David Tso, Peter Van Waart, Henry Jung*, Deb Fry* and Terry Kamino*

* - visited/conversed by email with (or in person)

....THEIR Privacy....
...I've not listed a place of business or job description for the above people I've connected with
on the LinkedIn.com website

The names are usually engineers and support staff/managers/office staff and others who I remember and worked with on a daily basis during my employment from1969 - 2001 and especially from
(1988 - 2001 - as a manager level employee) Steve Miller.

If you wish to contact them... Try LinkedIn.com or contact me, for I
will ask their permission. Some have local employment, some out
of state and some are on FaceBook.
Glad they remembered me...!

~~~~~~~~~~~~~~~~~~~~~~~~~~~~~~~~~~~~~~~~~~~~~~~~~~~~~~~~~~~~~~~~~~~~~~~~~~~~~~~~~~~~~~~~~~~~~~~~~~~~~~~~~~~~~~~~~~~~~~~~~~~~~~~~~~~~~~~~~~~~~~~~~~~~~~~~~~~~~~~~~~~~~~~~~~~~~~~~~~~~~~~~~~~~~~~~~~~~~~~~~~~~~~~~~~~~~~~~~~~~~~~~~~~~~~~~~~~~~~~~~~~~~~~~~~~~~~~~~~~

Some of our fellow/former co-workers are: 61 still are in the Omaha area....?
Current and known CommScope which now reside at another location in Omaha..
NO BODY is left in the old plant that we use to work at.

CommScope as of July 10, 2015
CUSTOMER SERVICE employees:
Dan Anderson, Tim Anderson, Carolyn BeBout,
Joseph Boultin, David Brockhaus, Richard Case,
Barbara Coe, Chuck Coufal, Al Cruz,
Matt Cruzz, Jun Fan, Steve Fennel,
Susan Fetherkile, Larry Harrison, Gerald Hassett,
Chad Hummel, Babu Inti, Kyle Kuvin,
Joee Kvetensky, Jerry Lampe, Danelle Lockwood,
Vick Long, Charles Mann,
Mark McCleery, John McNulty, Scott McQuin,
Bill Meyers, Michael Oswald, Nancy Penny,
Brian Petersen, Doug Preister, Patricia Reding,
Jeffrey Reynolds, Gretchen Riemersma, David Slaughter,
Keith Strasser, Juli Templien, Kalvin Tuel,
Tanya Tyrcha, Brenda Walkowiak,


CUSTOMER CARE:
Phil Alexander, Carol Berry, Blake Bukacek,
Debbie Hays, Traci Henry, Kelly Lemon,
Chris Leslie, Ruth Nolan, Sharon Novak,
Scott O'Doherty, Jeff Paulson, Jennifer Pechar,
David Piercy, Steve Schafer,
Erica Weigel and Karen Wilde

The buildings are still standing ... 30 building is now a warehouse for Ford Storage
The main cafeteria is completely "cleaned out to the bare steel structure", and is now used by Kiewit which also resides in 20 building on three levels...lower level of 20 building is used for office equipment storage. And for 50 building as before is
Millard Lumber, and maybe others. The former 60 warehouse - Specialty Finishes/Quad Graphics and there are other buildings recently built on the east side of the former Works property. Check this site for those video and still images. Maybe more to come?


---