---
Would anyone like to join our WEOMA bowling league? We have a team that needs a bowler. We bowl on a mixed league at 4:30 on Fridays at Western Bowl. This is a non-serious league made up of mostly former workers at the plant. It is only 3 person teams so bowling is done by 6:30. If interested contact:
Tim O'Connor at 402-597-8595.

---

One of our many dedicated employees - who made corporate news by appearing on local television news.

​In this video clip - Mike explains the Omaha Works accomplishments from the 30 building hallway.

---

An award presented to the works and Mr. John Heindel, CEO of Omaha Works, in Omaha, Nebraska. Engineering Manager, Mr. Michael Parizek explains in the video the accomplishment of the facilities which were presented here. A WOWT-TV local news anchor - Dave Weber, interviewed Mike at the plant, along with additional footage acquired at the facilities in the mid 1990's.

To be directed to the page containing the short video clip- from WOWT, please click on the Video image.
Mike's starring video is at the top of the page on the link.

Sad, note...Mike Pariek, just recently passed away, and a "bio" of Mike his here below. Click on the colored text for more details. Mortuary Service information:http://heafeyheafey.com/newobituary/display.asp?id=11134

---

CLICK on any short cut button below to see that page

Images from meeting, events, general and visitors

Known meeting places for retirees getting together for fun

---

PUSH the FUN BUTTON

​INTERESTING in what ONE person
or MANY people ​can do!

NOT work related - HAVE SOME FUN !

Bob Allen - former AT&T CEO passes away...

Mr. Allen's visit to the Omaha Works
(click on the link below for a July/Aug issue in 1987)http://omahaworks.net/87-6.html

​

He created a spin off called "Lucent Technologies" and bought a cell telephone service called McCaw cellular and many other FIRST challenges for a brand new type off AT&T after divestiture.
​
I have some videos with him included. Just type in Bob Allen in the search box on the top of every page to see what I have of Mr. Allen's videos, the result of the search will direct you to which page the videos are on.

You can also search the internet to see printed articles about his career with a "Google or Bing"
search on Bob Allen.
(I can not link those articles for they are usually a paid subscription service)

Thank you Mr. Allen for facing with dignity and class after divestiture, the many unique opportunities presented to the company and its employees.I found this article found from his funeral service and Obituary article:
​http://www.ippolitofuneralhomes.com/sitemaker/memsol.cgi?user_id=1851459

---

---

The (site administrator/creator) work is never done ....Changing and enhancing all the web pages for: links that have become outdated and general overall visual updates and visual appearance ... and ease of iPad use or download files on all newsletters (much improved). Check daily for updates.

---

Volunteering with the Pioneers Organization at the factory, many projected a very positive feelings of all the employees helping the community.

---

GALLON CLUB donors recognition of internal BLOOD or Phersi's donations at the plant in the 80's - 90's?
Many old images of GREAT employees

Retirees Luncheons served at the German - American Society
We participated in FOUR events in 2004 ...
​We changed location in 2006 - still going
---
---
---
CLiCK on Button to the side: to go to a page called: website and deaths
 Added a separate link/policy on death notifications and how to get, and where to find known information about our lost employees ...PLEASE READ


---
Newspaper or articles about some interesting non Omaha Works events from the past: Names such as Baltimore, Oklahoma City and Kearney are mentioned.
---
NEW (old Union Agreement in 2006)
CLICK here to go to it.
+ + + + + + + +
NEW photographs of new construction at the old plant added:
CLICK HERE
​to goto that page..at the bottom are new photographs ​
​ added another page called:
Photo 15 years section...enjoy.
---
The ONLY source of ANY History of the "Omaha Works" .
For the enjoyment of the retired employees, family, friends or anyone interested about one of the "Ma Bell's" manufacturing facility located in Omaha, Nebraska from 1956-2004.
Adding other ​Ma Bell (Western Electric - AT&T) plants if THAT information is available.

Items of interest from the Omaha plant: (Publications) named: Westerner, Headliner and Connect company newsletters, AT&T, Lucent Magazines, WEOMA newsletters, Employee Involvement newsletters, videos, photographs and more,
UNION CHAPTERS of: INTERNATIONAL BROTHERS OF ELECTRICAL WORKERS LOCALS:
I.B.E.W. # 1974 - # 1614 newsletters
​I created this website for the former employees and friends or interested people about one of the
"BEST IN CLASS" manufacturing facilities of the "Ma Bell" -AT&T System, Omaha Works (my p.o.v.)
---
---

ALSO for those other retirees of ...

---

CLICK On the LRO box to be re-directed to that website Not meant as an endorsement...yet an INFORMATION website portal for Lucent/AT&T/Nokia retirees
represented.

Contained is information about the employees and company activities for over 45+ years of current events and happenings of this manufacturing facilities existence. All in the family of existing corporations such as: Western Electric, AT&T, Lucent and Avaya and the regional Bell companies during the existence of "Omaha Works" from 1956 - 2004
IN 2004 it changed to CommScope's "CSMI Omaha Division" which closed in 2012 ?

The results of Omaha Works properties and various enhancements to the buildings over the years and what has changed since 2011.

CommScope or ? has sold/leased the properties to ? which then leases or sold more of the land to various companies/entities.

​(not sure of the exact wordage here or history - Needs clarification..can anyone who was employed from 2001-2012 provide the internal details?) as I retired in 2001
---
Image capture on iPhone - might want to turn down the volume...noisy day
​Another HOTEL....this will make 2 in the SW corner of the old property...behind SAMS Store on 132nd St. north of L St.
MORE newer video of 30 building
EAST side.
​A new truck loading
DOCK has been added
(old gold room area)
​
​CLICK HERE
---
---

| | |
| --- | --- |
| ​​​​​​For iPad users or to download a file directly....use the file name next to this line of text below | |

Western Electric History ... Lincoln Nebraska Building

The famous Lincoln building that once had the name Western Electric-one in Lincoln, and one in Omaha (building A?) ....CLICK HERE for the whole story from the Lincoln Journal Star for Lincoln's article. Is an article/images of building of a building in downtown Omaha ? Or read the file below?

---

Western Electric History in Millard Nebraska...

CLICK on image to make it LARGER !

---

Share with your friends or former employees of the plant at 120th & "L" Street

If you wish to add items from your personal collections of photos, newsletters, video tapes or plant related articles. Landline phone: 402 778 5784

if no answer, leave a message, or cell # 402 378 8725

NO message left - NO returned phone call.

All items are returned, or if you wish,

or I can keep forever.

​

Mail packages to:
Steve Miller
P. O. Box 45651
Omaha, NE. 68145

email:

stephenmiller@cox.net

From the companies of: W.E., AT&T, Lucent

and Avaya Corporations

A former, (now retired) management employee

​of 32 years.

Questions, corrections or clarifications - email me.

OR use the contact form on this page.

---

A new way to always get to the HOME page...
TOP LEFT - OmahaWorks.net
CLICK on it ...take you to the HOME page, every time and on every page!TOP RIGHT - White/Red Box
ON EVERY PAGE ...
a "SEARCH" featureType in any word or number, etc.

...

​Words such as: IBEW,Western Electric, Lucent, AT&T, business cards, newsletters, union, video, photographs, Bob Allen, Mike Parizek or telephone,1970, sale, etc.

​It SEARCHES ALL content on

omahaworks

site

​(

NOT the external web

)

Based on WORDS I've put into a description, my notes or anything I've typed to an article of interest, observations, etc.

Do you like it...fill out form on the left side
Send Steve a note - appreciatedSORRY - it will not search for names in newsletters - PDF files
​___________________________________________________________

​

ADDED new Page...Products W.E. made, not necessarily in Omaha...CLICK HERE to see large a Western Electric pre-divesture telephone catalouge

---

A letter generated below is from the p.o.v. of other scholars of why
​Lucent Technology
​failed in the marketplace ...?
​(The source of this letter is:
http://usphoenix.net/science,%20technology/what_really_happened_to_lucent_t.htm)

​​​​​​For iPad users or to download a file directly....use the file name next to this line of text below

---

Our cabinets were built this well when Omaha Works by our skilled workforce for over 45 years.

Many employees in cabinets and the production process from drafting/CAD drawings, engineers, support management, plant management and production employees would be proud they made such durable products.

​Look around Omaha and other locations...those cabinets/painted enclosures are still working to provide us ...telephone, internet and a variety of digital services today.
---
CLICK on ANY image to .... make it larger !
---

Very RARE find... a 1961 pay detail...keep looking in your "stored away boxes" There is MORE out there to enhance this site and our "Omaha Works" HistoryLook at the hourly pay...PREMIUM pay in those days...not sure what minimum wage was back then...THIS surely had it beat ! Thanks Western Electric for you supported many communities and families for many decades, and all the names that followed in Corporate terms.WANT to see what todays dollars would buy based on some past years wages...click on this link belowhttp://www.bls.gov/data/inflation_calculator.htm
---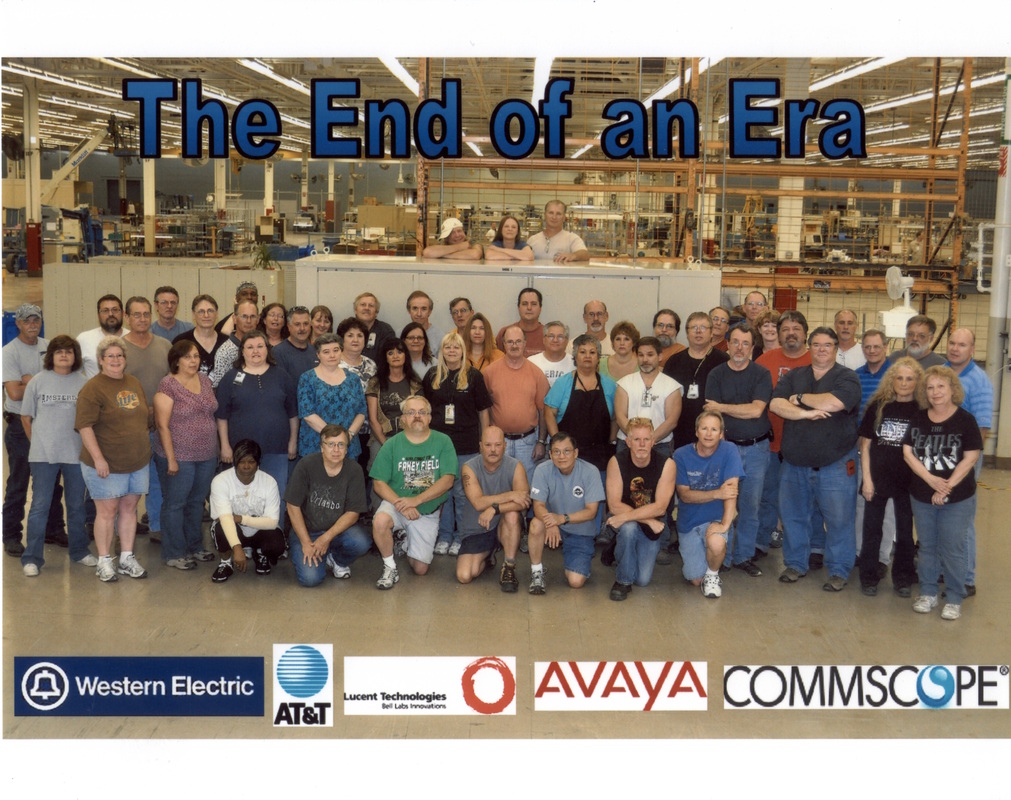 The title says it all to over 50+ employees of the "Omaha Works" in this image . The existence of the Omaha Works from 1958 - 2011, with over 50+ years of fantastic Union represented employees, management staff and many other supporting people... made this facility the BEST ever in the system in the history of MA BELL's manufacturing division.

This proud location contributed so many products and services that once represented the pride of the U.S.A. and the WORLD's BEST Telephone system.
---
---

---

NEW - JUST ADDED
​Video's taken on a iPhone 6s PLUS.click here or on the camera to watch some recent
on location videos of the existing buildings and enhancements added to the old plant?

---

---

Just added 2016 new booklets I call them... a very informative - LARGE booklet about ...
"A Historical Perspective of AT&T 1996"
...check the Booklet page or
click HERE
and a
SERVICE Anniversary Booklet
​from 1965 added recently... ENJOY

---

Excuse the handwriting...just a note of who changed positions in 1972 added by?

---

click on link Western Electric - "Omaha Works" Staff assignments from the Plant General Manager to Assistant Managers/Medical .
I was there as an employee...1968/1969-2001
​Steve Miller, were YOU?
​
Apologies for small images/quality....try the FULL PAGE view, yet even they are grainy...VERY SMALL IMAGES and TEXT to work from!

Updated with more new images

---

Do you remember when is said ...."Western Electric"
​on the tower ?Lots of new images taken from the EAST side going West going the route of the back road "F" Street. I even missed a few places....
​ENJOY, maybe more in the future ?CLICK HERE or on the above image: to go to dedicated page of these images...

---

---

Video Images of the new owner of the old 60 building - name changed to - Quad Graphics from
​Specialty Finishing. To learn more about that company and other video of the neat things they produce in our old warehouse, and how they utilized the floor space. They have more videos posted to watch which show the basic floor plan we
had till it was sold in 20xx?__________________________________________________ CLICK HERE for more of this company Speciality Finishing/QUAD Graphics for more information and videos of their tools and services. I posted mainly because it shows the old 60 building internals layout.
(at least the internal walls/racks are still there)

---

THIS sites VIEWING pleasure is best from a desktop computer or maybe iPad.
This site was not optimized for the Smart Phone format !
---
Aerial image from BEFORE the changes....drive by 132nd St. side or the "I" St access road on the west end....CHANGES have been made for the ....new owners?
GONE was the large parking lot and access roads of before...replaced by more roads/hotels and more businesses. Now a new road "130th Plaza"
(the old 50 bldg. parking lot) and a new railroad track, and the GUARD SHACK is now gone ...SEE above images for other views
---
How we used to fabricate and some people installed these cabinets under the old companies...
now a new company *CommScope* guidelines.
For those who USE to build these "state of the art" cabinets, and install under the AT&T-Lucent-Avaya days ...ENJOY
---
From the video tape vault...THIS tape has everything. Bright Future, "Gotta Wear Shades", Acquisition of ASCEND and a 2016 Presidential candidate (female) who use to be in management at Lucent.
MAYBE more to come...?

---

Western Electric/AT&T/
Lucent/Avaya and Commscope original buildings STILL remains...
yet some NEW construction is going on.

Explanation of the photograph is in the PHOTOGRAPH section -
click here to go to
​see them.
Newest photographs are at the bottom ...
​ALWAYS looking for more.



---

Maybe more images to come of updated construction or new views?

From the video tape box of the unknown (actually I gave my mother a copy to show her how her former employer had changed from the days of W.E., and AT&T - glad she kept this - she
(Betty "Darlene" Miller passed away on 8/11/2015) and I found this while house cleaning. MAYBE you have some of those tapes, photographs or other plant related "ANYTHING" ...they need a new home!

...THIS tape has everything.
Rich McGinn CEO and "Gotta Wear Shades" and fantastic profit report for this April 29, 1998
All Employees Broadcast on Satellite signal which hopefully some employees watched.

---

Vote for the following of the I.B.E.W. local 1974 union officers (donated by Edie Riester) of the Omaha Works facility from 1958-2004?

NOT sure of the year they choose to seek office or position or re-election .....maybe further information
in the future?

Hope more will come as people find them....
added July 9, 2015
Additional MUG images by Edie Riester...
anyone save that item?

Contributed by Edie Reister...we sure gave away lots of items to our employees. This bobble was part of of a TEAM program for ideas/rewards in the late 89-90 years. If you have anything involving the plant/employees, contact: Steve Miller

---

---

---

Sharing of images from a former employee who was there till the end, and wished to share what he did for 29 years of W.E. AT&T, Lucent, Avaya and Commscope.

Steve Dormer, informed me that he worked at the plant for 29 years and 5 months. I was in the July 15, 2011 the last group to be laid off. Below are pictures that I took on my old cell phone that I have recently transferred to my computer.
+ + + + +
I was a sheet metal high bay employee, that is why the pictures are mostly of the sheet metal, paint line, cabinet related variety. I ran the turret punch that is pictured.
Thank You:
Steve Miller for the web site.
(Lots of pictures of cell teams for the 1990's, etc.)

P.S. Thank you Steve, unfortunately all the captions did not transfer over, YET people will enjoy them. Also, these images are in the "photographs" section -
Steve Miller-creator
---
---

After the luncheon in 2000 and the Avaya Players at the Holiday Inn in Omaha, Cathy, Ray and Dr. Tom Osborne spoke to the retirees.

---

From the unknown... the lost video tape vault of ...?
"Avaya Players" with Camille and the Outta Sync's presentation ....many times in the main cafeteria

---

...On the road? ... Once a annual event, the ALL Retirees luncheon in 2000 at the Holiday Inn 72nd & Grover ... the show continues with enhancements !
audio challenges - UNTIL : 2:00 minutes into skit
oops lost my ...wired connection...NEVER trust an unknown audio connection . That was 15 years ago ...

---

I.B.E.W. #1974 Anniversary Issues
and MORE...monthly issues

A donation of "Anniversary Issues" of the union paper and MANY more.
Click on the ANY buttons
Included are Anniversary issues of the:
10th, 25th, 30th and 40th issues.

As with the company newsletters,
I DO NOT have a complete history of all issues.
They're in a storage box at a "retirees" home.
PLEASE look, they might be waiting to escape... the landfill, paper shredder or ?
I'll help?

Did you know in 1969 - A Short Circuit issue said:
6800 copies printed monthly, and sent to: 23 states and D.C., Czechoslovakia, Germany, Japan. Holland, Switzerland, Canada and Ireland. (On the front cover of October 1969 Short Circuit)

---

Internal Company - Phone Books

ADDED another book - 1988FIRST Omaha Works internal phone book was March 1959 ?and more added.Ponder the idea...who was there in ANY year.Look at each book in a year you remember - you might be surprised who you'll find as - Engineer, Department Chief/Supervisor or staff member !
CLICK HERE to view

---


A reminder of how important "SAFETY" was on/off
the job. This "plaque" was on ALL supervisors desk !

---
---

---


I.B.E.W. #1974 Union newsletter collection

Short Cut to specific years of the Union
"Short Circuit" newsletters.

---

Article from the Omaha World Herald dates September 21, 1985.

Employment looked a little challenging in those days, we survived and continued.

Full article ...click on image to view full article.


MORE newspaper articles?

---

---

What you see is what I have scanned.
If you don't see an issue, it needs to be rescued.
PLEASE DIG IT OUT !
Always looking for plant related....
Photographs,Video tapes, articles, etc. are welcome.
STILL Missing ...Not sure of the 1958-59 issues?
Company newsletters with "zero" issues
that I have NO newsletters for:
1960, 1965, and 1968
Lots of Union Newsletters missing !
Did anyone keep anything?

---

---

---

Internal Company
"Omaha Works"
Newsletters by the Decades:

---

---

---

---

---





Coming upon many decades anniversary of the
"MA BELL" era.
A saying so famous... maybe those under a certain age might not remember our history. These times are gone for now, enjoy our history.

---

One of many images of THE famous front of
"Omaha Works" and it also said "Western Electric" across the front of 20 building in some images.
...click on it and see....
more images.

ADDED more images of PEOPLE and Construction

---

A rare "newsletter" about another manufacturing plant of "MA BELL". Are there more?
Share them if you can

---

---

Commscope EMPLOYEES: location to a new building in Omaha:

Commscope- Omaha 96th & Western
(2 blocks north of Dodge Street)
60 employees here.
"Offices are in the back row"

ALL the names are on a separate list.
CLICK here to go to that "still working" list

---

An BIRDSEYE - NO DRONE images YET: view of the "Omaha Works"
After the front yard disappeared.
Better visual details are
CLICK HERE or THIS LINK
This goes thru bing.com for a
better image.
BEST VIEW is the
""Bird's eye view"" in top right of screen from www.bing.com

---

Were you employed by one of these companies, or all of them.
No logo for Western Electric
(was absorbed by AT&T in 1984)

Click on a "logo" to connect and view our former/current corporate web page.


---

Collectors Piece? It's value at one time was over $80.00+ ... now called Alcatel-Lucent and now NOKIA.
Current price is OVER $4.00 + ...check under "ALU" on the NYSE stock listing. Now merging with Nokia What's next?
---